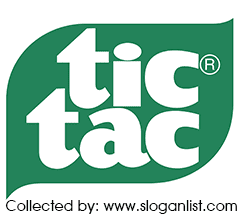 Refreshment to be shared.
The 1½ Calorie Breath Mint.
It's not just a mint, It's a tic tac.
Put a Tic Tac in your mouth and get a bang out of life.
Two hours of Tic Tac freshness in less than two calories.
Tic Tac (officially styled as "tic tac") is a brand of small, hard mints, consisting of 91.3% sugar per 100g, manufactured by the Italian company Ferrero SpA, and are available in a variety of flavours in over 100 countries.