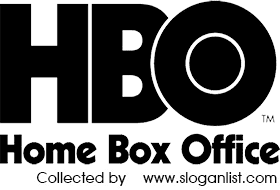 It's HBO.
So original
The Home Box
Just You Wait
Different and First
HBO People Don't Miss Out
Great Movies Are Just the Beginning.
America's Leading Pay TV Network
There's No Place Like HBO
Nobody Brings It Home Like HBO
The Great Entertainment Alternative
Watch Us Here on HBO
The Best Time on TV ( general slogan )
The Best Movies ( promotional slogan for movies )
Let's All Get Together
Simply The Best
It Could Only Happen Here
Something Special's On
It's Not TV. It's HBO.
Get More ( slogan for the HBO website )
It's More Than You Imagined. It's HBO.
This is HBO. ( only used for IDs )
It's What Connects Us
This is HBO, the Home Box Office. Premium Subscription Television from Time-Life.
Home Box Office (HBO) is an American pay television network.